In this GrowthBar review covering their AI text generator software solutions I will explain everything you need to know about this useful AI content creator tool, if its legit and if GrowthBar is worth it.
GrowthBar Review
As a blogger and affiliate marketer with over 23 years of experience, I'm usually testing new AI tools that can help me save time and increase my productivity levels in regards to my content production efforts.
One such tool I recently came across is the GrowthBar ai text generator.
In this review, I'll be sharing my experience using the tool, as well as comparing it to its competitors in the market.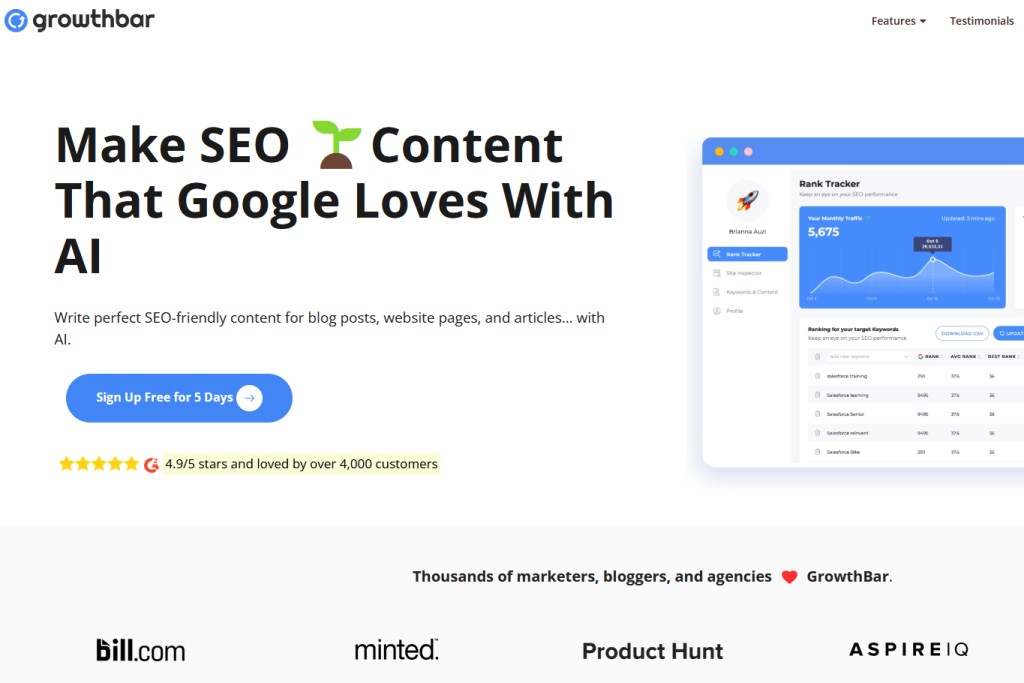 Is GrowthBar Legit?
Before we dive into the details, let's address the elephant in the room.
Is GrowthBar a legitimate AI tool or just another scam?
I can confidently say that GrowthBar is a legit AI powered content tool that delivers on its promises.
It has been around since 2018, and its user base is growing steadily.
Moreover, GrowthBar has been featured in reputable publications like Forbes, Entrepreneur, and Search Engine Journal, which further validates its legitimacy.
Owner of GrowthBar
To give you a better understanding of GrowthBar's background, the company was founded by Hailey Friedman and Mark Spera, two tech entrepreneurs with a background in building successful startups.
Hailey Friedman currently serves as the CEO of Growth Marketing Pro SEO Agency, and the company is headquartered in San Francisco, California.
Key Features of GrowthBar
Next, I'll dive into the key features that make GrowthBar a unique and useful tool for bloggers and marketers.
GrowthBar's text generator AI is designed to help users generate high-quality content for your website or social channels quickly and easily.
Here are some of the key features that make it stand out:
AI-Powered Content Generation: GrowthBar uses advanced machine learning algorithms to generate high-quality content. This means that the tool can produce unique and engaging content in seconds, saving users a lot of time and effort.
Keyword Research: GrowthBar also has a built-in keyword research tool that helps users find the best keywords to target for their content. The tool provides valuable insights into keyword search volume, competition, and related keywords, making it easy to optimize your content for search engines.
Topic Suggestions: Another useful feature of GrowthBar is its topic suggestion tool. With this feature, users can input a keyword and get a list of relevant topics to write about. This makes it easy to come up with fresh and interesting content ideas.
Content Optimization: GrowthBar also helps users optimize their content for search engines by providing suggestions for title tags, meta descriptions, and other on-page SEO elements. This ensures that your content is optimized for maximum visibility and engagement.
GrowthBar Software Providers
GrowthBar's AI text generator is powered by OpenAI, one of the leading artificial intelligence research organizations in the world.
OpenAI's advanced GPT-3 algorithms enable GrowthBar to produce high-quality AI content that is both engaging and informative.
GrowthBar uses other industry-standard software providers like Ahrefs and Google Analytics to provide users with accurate and reliable data.
Pros of GrowthBar
There are several benefits to using GrowthBar that I have found during my time using the tool. Here are a few of the standout pros:
Saves Time: GrowthBar's AI text generator can produce human written-like quality content in seconds, saving users a significant amount of time and effort.
Easy to Use: GrowthBar is designed to be user-friendly and intuitive, making it easy for anyone to use.
Improves SEO: GrowthBar's built-in keyword research and content optimization tools help users improve their SEO and rank higher on search engines.
Fresh Content Ideas: The topic suggestion tool makes it easy to come up with fresh and interesting content ideas, which can be a lifesaver for bloggers struggling to come up with new topics.
Cons of GrowthBar
While there are many benefits to using GrowthBar, there are also a few cons to consider. Here are a couple of the most
notable cons:
Limited Customization: While GrowthBar's AI text generator can produce top quality content quickly, it does have some limitations when it comes to customization. Users cannot choose the tone of voice or writing style of the content, so it may not be suitable for those looking for highly personalized content.
Limited Output Options: GrowthBar's output options are limited to plain text, HTML, or WordPress. This may be a limitation for users who prefer other content formats.
GrowthBar Pricing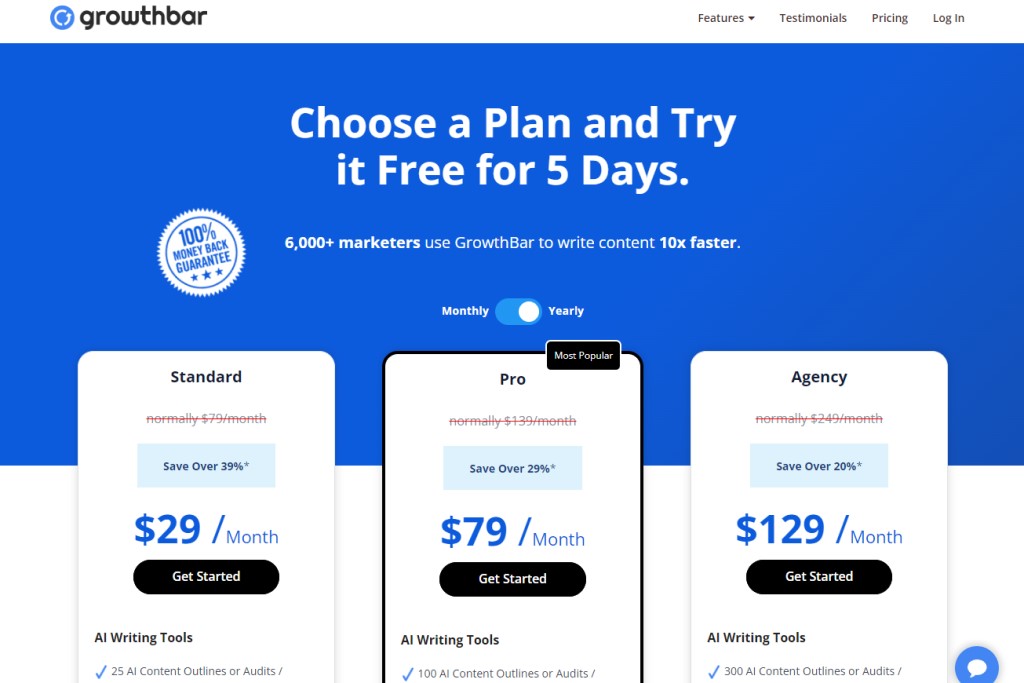 GrowthBar offers several pricing plans to fit the needs of different users.
The Growthbar subscription plans are as follows:
Starter Plan: $29/month – Includes 1 user and 1 website, track 25 keywords, 25 AI content outlines or audits, 10 content briefs, and 500 words of AI-generated content.
Pro Plan: $79/month – Includes 3 users and 3 websites, track 1,000 keyword lookups, 100 AI content audits, 30 content briefs, and 3,000 words of AI-generated content.
Agency Plan: $129/month – Includes 10 users and 25 websites, track 500 keywords, 300 AI content audits, 100 content briefs, and 12,000 words of AI-generated content.
GrowthBar Overall Ratings
According to different GrowthBar review guides on the web, here are the ratings for the tool:
GrowthBar Customer Service
GrowthBar's customer service is top-notch, with prompt and helpful support available via email and live chat.
The company also has an extensive knowledge base with helpful articles and tutorials to help users get the most out of the AI content tool.
GrowthBar Alternatives
While GrowthBar is a powerful AI based tool, there are several other AI text generators on the market. Some of the most popular alternatives include:
How GrowthBar Compares to Competitors
Compared to its competitors, GrowthBar has several standout features that make it unique.
The tool's built-in keyword research and content optimization tools are particularly useful for bloggers and marketers looking to improve their SEO.
Additionally, the topic suggestion tool and AI-generated content features make it easy to generate fresh and engaging content quickly.
However, some competitors like Copy.ai offer more customization options for content output.
My Overall Experience at GrowthBar
Overall, I've had a positive experience using GrowthBar.
The artificial intelligence tool has helped me save time and increase my productivity as a frequent blogger and online affiliate marketer.
The AI text generator is particularly useful for generating high-quality content in a rush, and the keyword research and content optimization features have helped me improve my SEO optimization.
While there are some limitations when it comes to customization and output options, the tool is still a valuable asset in my content creation arsenal.
GrowthBar Review Summary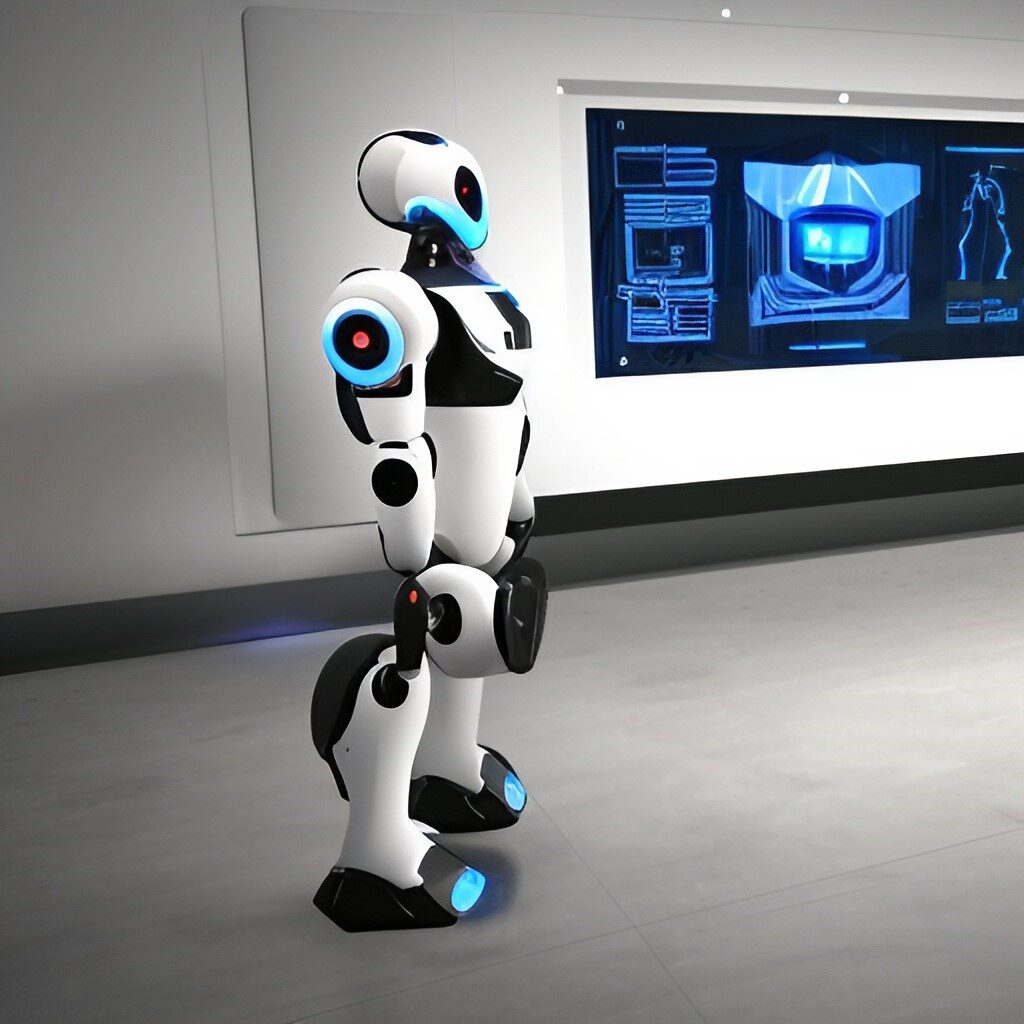 In conclusion, GrowthBar is a legitimate and valuable tool for bloggers and digital marketers looking to save time and increase their overall content productivity.
The AI writing software, keyword research, and content optimization features make it easy to generate high-quality content and improve your website's SEO.
While there are some limitations to customization and output options, the tool's ease of use and helpful customer support make it a top choice in the market.
I recommend giving GrowthBar a try if you're looking to take your AI content creation to the next level.
Follow and Like AIgeeked on Social: