Copy AI is a revolutionary artificial intelligence automated writing platform that makes it easier than ever to write content for blogs, stories, marketing materials, and other projects. With its cutting-edge natural language processing technology, it can help you create high quality content in just a few minutes time.
In this Copy.ai review, I'll explain what Copy AI has to offer and how it's the changing future of writing.
AIgeeked.com is reader supported and we may earn an affiliate commission from the AI products listed on this website.
A Complete Review of Copy AI
Copy AI is an artificial intelligence content generator that offers a comprehensive solution for creating high quality, SEO friendly content with speed and ease. Harness the power of natural language processing technology, Copy AI can automatically generate blog articles and social posts in minutes that would otherwise take hours or days for you to produce them manually.
This Copy.ai review will cover the features and benefits of using Copy AI, with a focus on how it can help online marketers and blog writers save time and increase productivity.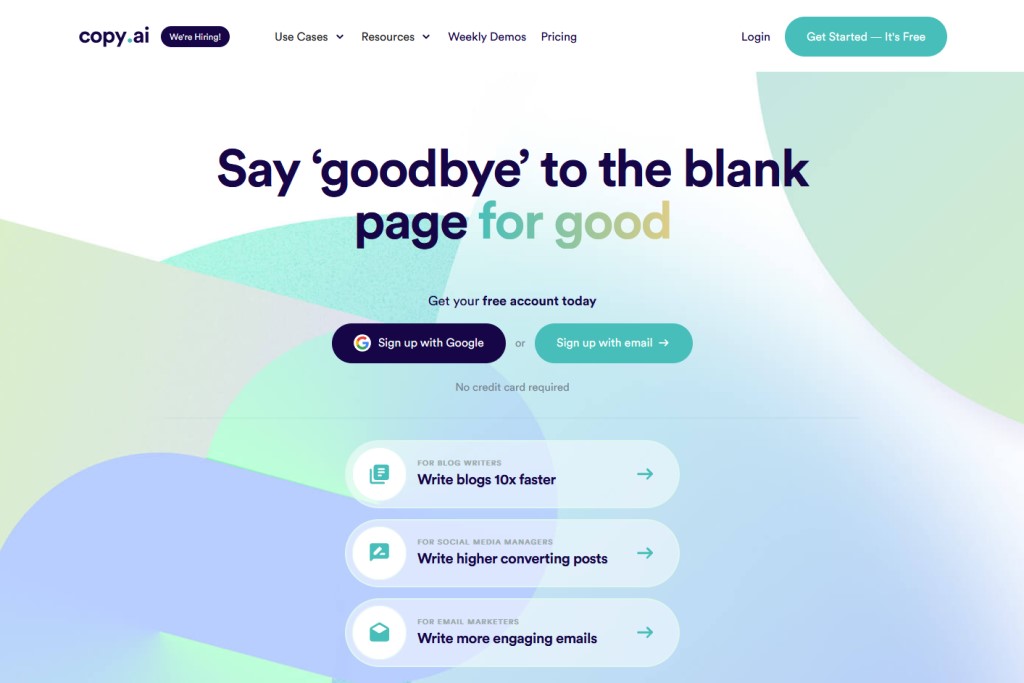 What Does Copy.ai Do?
Copy.ai helps you create compelling content with a few clicks. It uses advanced natural language processing (NLP) algorithms to identify the key arguments in any given piece of text and rewrite them in an engaging way.
You no longer need to spend time researching ideas or coming up with new marketing angles because Copy AI will do it for you. The intuitive interface allows you to easily tweak your copy as necessary, so that it perfectly fits your brand voice and style of writing.
What Makes Copy AI Unique?
One of the things that sets Copy AI apart from other AI writing tools is its ability to generate quality, unique and original content on demand. This means whatever kind of project you're working on you can rest assured knowing that the content produced by Copy AI will be 100% plagiarism free.
Because Copy AI is powered by machine learning (ML) algorithms, it gets smarter as it processes more datasets. Their AI writing capacity becomes more refined and accurate over time.
CopyAI has a great chrome extension for people that browse the web with Google Chrome.
How Does It Work?
Copy AI's NLP technology works by analyzing existing text from large datasets and then using machine learning algorithms to generate new content based on the original source material. The result is unique and SEO-friendly content writing that reads as if it had been written by a real person.
It's able to learn from its mistakes. Each piece of new content created is usually better than the previous one.
Copy AI uses advanced grammar checking AI tools to ensure that each article is free from errors and typos. This allows you to create professional grade content without having to worry about making any lengthy edits or overstress about having to spend hours proofreading your work.
You should still always review the AI generated text it produces to find ways of enhancing the content so that its both helpful & insightful to your readers.
As if that's not good enough already, it gets better still. Copy.ai offers more than 50 keyword focused writing tools that use AI Based SEO so you can easily optimize your website content for optimal rankings in Google, YouTube, Bing, DuckDuckGo and other search engine rankings.
How Can You Get Started?
Getting started with Copy.ai is fast & simple. Just sign up for an account and start creating!
Whether you're an experienced professional online marketer or a complete SEO beginner when it comes to writing copy for your website, blogs and social media profiles, Copy AI's easy-to-use interface makes creating great content fast and painless.
If you need any help along the way their friendly and professional customer service team is always available to answer any questions or provide assistance you might need.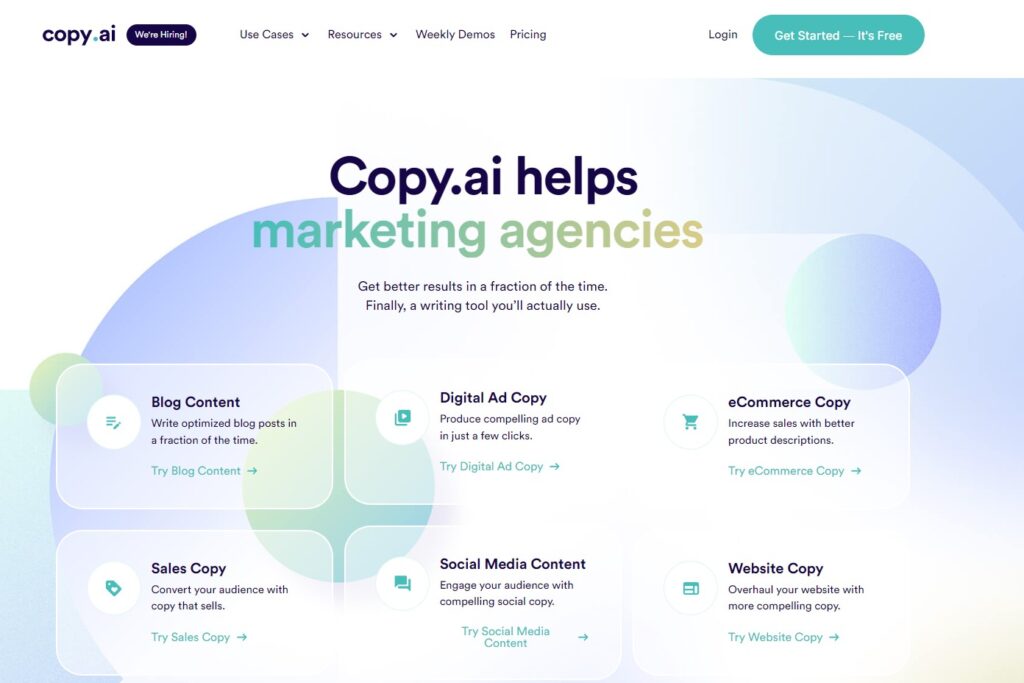 Benefits of Using Copy AI
Using Copy AI has many advantages over manual traditional human powered writing or outsourcing your writing tasks to freelance writers.
To begin with, it's much faster than writing blog articles yourself. You can create multiple pieces of high-quality content in a fraction of the time it would take you to write them all manually.
Also, since you're dealing with an automated AI system instead of individual writers, there are no communication delays or misunderstandings with other authors that could slow down the process further.
Copy AI saves you lots of money in the long run because you don't have to pay a freelance writer for every post they write. Just pay a one-time fee each year for using the AI text generation software itself.
Since the articles produced are AI optimized for search engines, they're more likely to rank high in search engine results pages (SERPs), which means your web pages will hopefully receive more organic search traffic to both your website and your blog posts.
Pros of Copy.ai
One major advantage of Copy.ai is that it can help you save time when writing content.
You don't have to spend countless hours researching and writing content from scratch. Simply enter your keywords or topic into the AI text writing software, and it will generate high quality content almost instantly. This can be especially helpful for busy writers who need to produce large amounts of content in a short amount of time.
Additionally, since the software relies on artificial intelligence algorithms to generate quality content, it can produce uniquely original posts that are free from plagiarism.
Another big pro with Copy.ai – it can help improve your SEO performance. By using keyword-rich phrases in your copywriting, you'll be able to increase your search engine visibility online and make sure that your website appears at the top of organic search rankings.
Since the software is designed specifically for SEO purposes, it can automatically optimize post titles, page headings and other important elements of your website so they are more likely to be seen by potential customers searching Google.
---
Cons of Copy.ai
Although there are many obvious advantages associated with using CopyAI, there are also some downsides to consider as well.
One major downside is that the AI writer software may not always produce accurate or reliable results. Since the system relies on ML algorithms rather than human intelligence, there could be errors in its output — which might lead to incorrect information being posted on your website or blog.
Also, since the AI copy generated by the software is technically machine generated (as opposed to being written by humans), it may lack personality or charm — which could make it less engaging for readers than human-written copy would be.
Last on my list on the cons department, while Copy AI can certainly help reduce workloads, improve workflows and save time when creating content quickly and efficiently — it cannot replace human creativity entirely.
For example, complex topics such as politics or philosophy may require more nuanced analysis or interpretation which learning machines simply cannot provide yet. As such, if you need in-depth and comprehensive coverage on these interpersonal topics then manual writing still remains essential for certain types of articles or blog posts.
Copy.ai Review Summary
Copy.ai is an excellent automated text generation choice for anyone looking for an efficient way to create top quality content quickly and cost-effectively.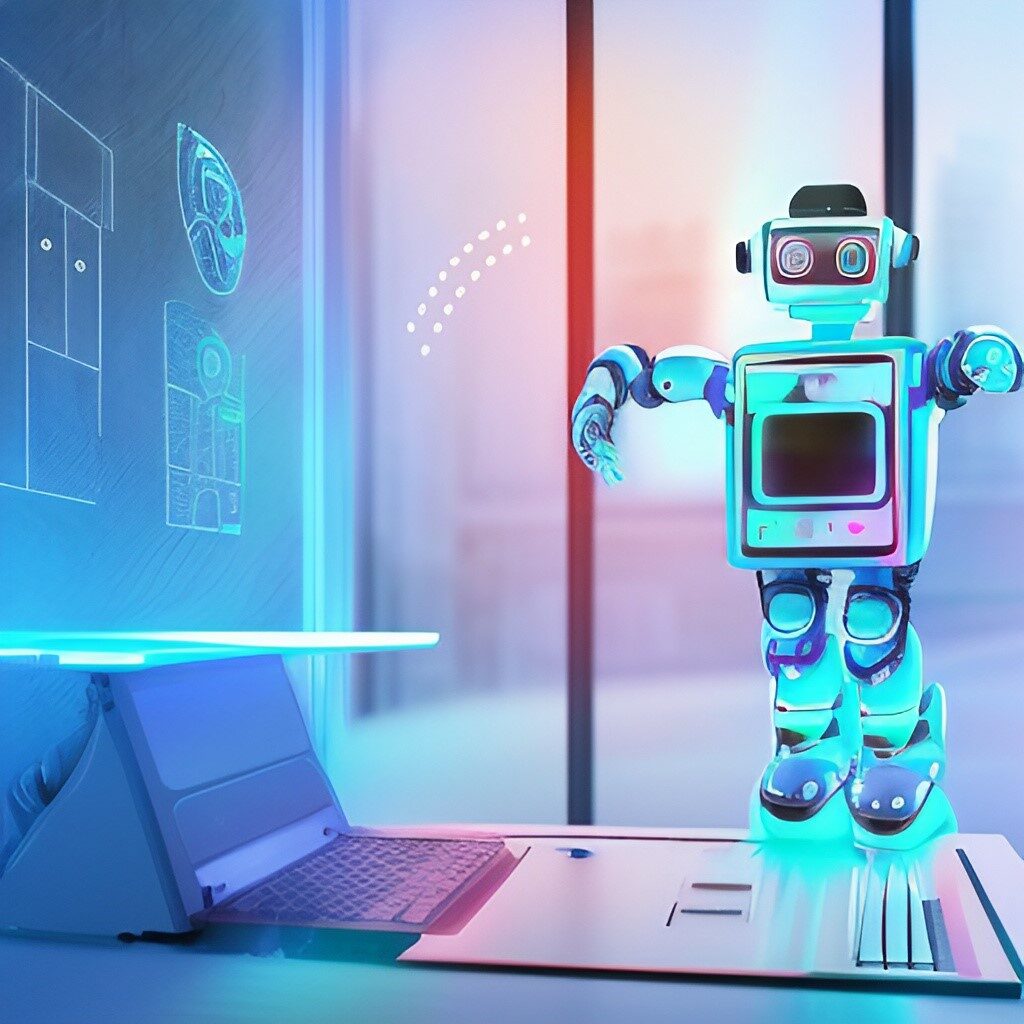 With its advanced NLP technology and grammar verifying tools, you can generate unique articles within minutes.
Copy.ai provides you with keyword research tools which ensures your web pages and blog articles will be optimized for higher search engine rankings and can receive increased organic traffic from SERPs.
If you're looking for an effective solution for producing quality content quick, then look no further than Copy AI.
Overall, there's no denying that Copy AI is one of the most powerful and intuitive AI writing tools out there today. The advanced NLP capabilities and ML algorithms make sure your copy is always top-notch while saving you time in the process.
If you're looking for an fast and easy way to create great website copy or blog posts without spending hours researching or rewriting then give CopyAI a try for yourself to experience what its all about.
While Copy AI has many benefits such as increased productivity, improved speed and reduced workloads that are very real — it also has a few downsides such as potential inaccuracies in content output due to the lack of human input involved in generating original copywriting material from scratch.
Ultimately though whether you decide to use this AI powered writing technology will depend on factors such as how much time you have available for creating premium quality content manually versus how much money you want to invest into automated AI text generator solutions like Copy.ai.
Either way though, you now understand why this type of automated content generation solution has become so popular with bloggers and digital marketers looking for an easy way out when creating quality copy quickly.
FAQ
Related Content You Might Like
Follow and Like AIgeeked on Social: