AIgeeked has done extensive research in search of AI image generator tools on the internet and created this ultimate AI art creator guide to the best artificial intelligence powered image generators available in May 2023.
AIgeeked.com is reader supported and we may earn an affiliate commission from the AI products listed on this website.
AI Image Generator Guide
In 2023, the digital world is brimming with a wide array of image generator tools powered by cutting-edge artificial intelligence technology. These AI-driven tools are designed to cater to diverse creative needs, transforming the way images are generated and opening up new possibilities for both personal and professional use. The myriad of competitor AI image generator platforms available in the market today can be broadly categorized into three types: free to use, paid to use, and ai image generator apps / websites that offer both free and paid versions AI image generation.
Free AI image generators provide a cost-effective solution for individuals and businesses looking to create stunning visuals without breaking the bank. These tools often come with limited features but are a great starting point for those who are new to the world of AI-powered image generation or have a tight budget.
On the other hand, paid AI image generator softwares typically offer more advanced functionalities, higher quality outputs, and premium support, catering to the needs of professionals and businesses that require a more robust and sophisticated image generation solution.
These artificial intelligence based tools often come with a subscription-based pricing model or one-time purchase fees, allowing users to unlock the full potential of the AI software.
Lastly, there are AI image generators that offer a blend of free and paid plans, giving users the flexibility to choose the best option according to their needs and budget. These ai tools provide a solid foundation with their free version, which can be enhanced with additional features and benefits upon upgrading to a paid plan.
In this comprehensive AI image generator guide, we have thoroughly reviewed the plethora of options available in the market, carefully curating a selection of the best AI-powered image generation tools based on their affordability, features, and user-friendliness.
I have meticulously organized this guide into sections, focusing on free to use, paid to use, and multi-plan artificial intelligence image generators, allowing you to quickly find the perfect tool to suit your creative needs.
AIgeeked.com is reader supported and we may earn an affiliate commission from the AI products listed on this website.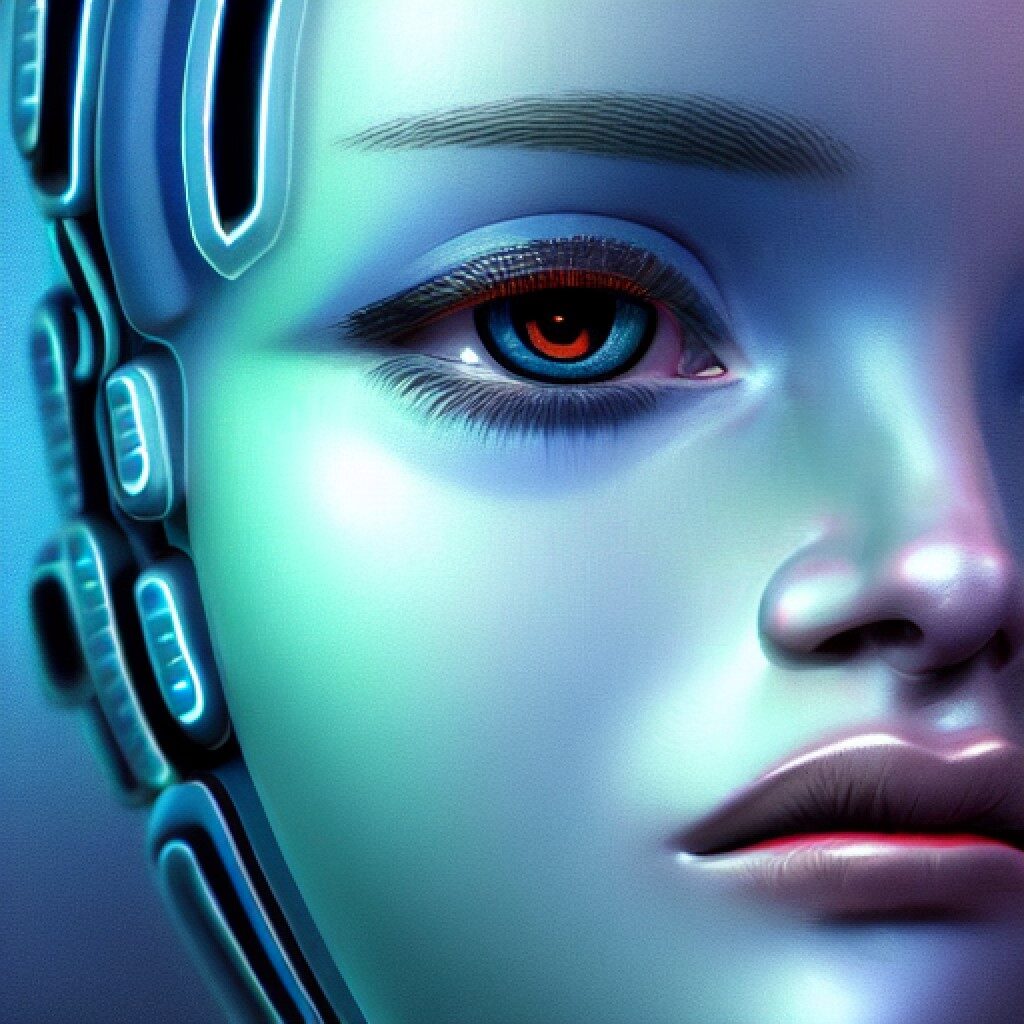 Best AI Image Generators
Find the best AI image generator below. These are high quality text to image art generators that produce photorealistic images in seconds all from a simple text input. Let your imagination run wild and see what beautiful and amazingly realistic AI generated images you can create today!
Best Free & Paid AI Image Generator Software
It's not surprising that some of the best AI image generator tools are mixed use tools – meaning they offer free image generation within predetermined limits and more robust image generator functionality that comes with higher limits when you subscribe to a paid plan.
Jasper AI – Jasper is an all-in-one content marketing platform that enables you to create AI images and AI art, SEO content, Web Content, Captions, Facebook Ads, Sales Emails and more in one powerful platform powered by artificial intelligence. It even has an AI story generator for creative writers looking to get past writer's block.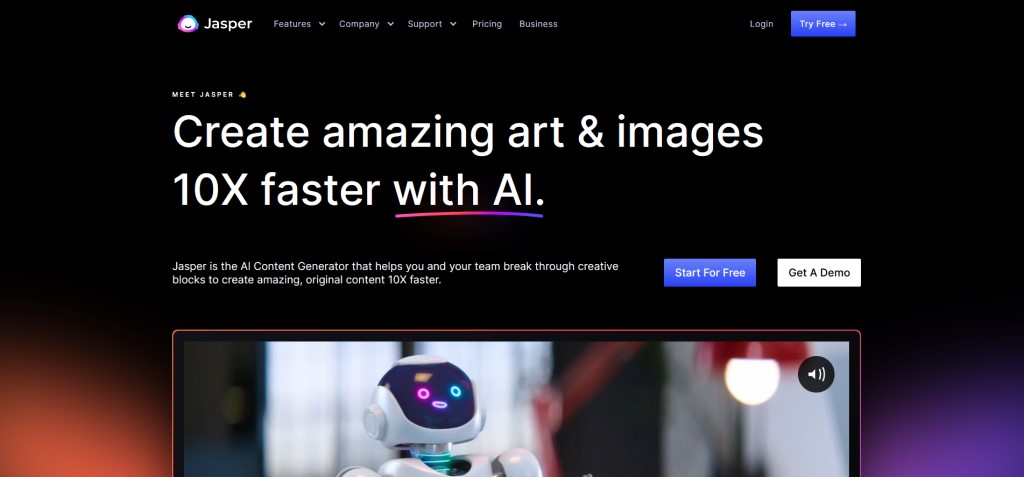 If you are looking for an all-in-one AI marketing platform Jasper.ai is a smart way to go. It helps you generate images and create content 10X faster with the power of advanced artificial intelligence software. Jasper.ai allows you to try some of their AI tools for free but then requires a paid membership to get full access to the software's suite of advanced features.
Jasper.ai Pricing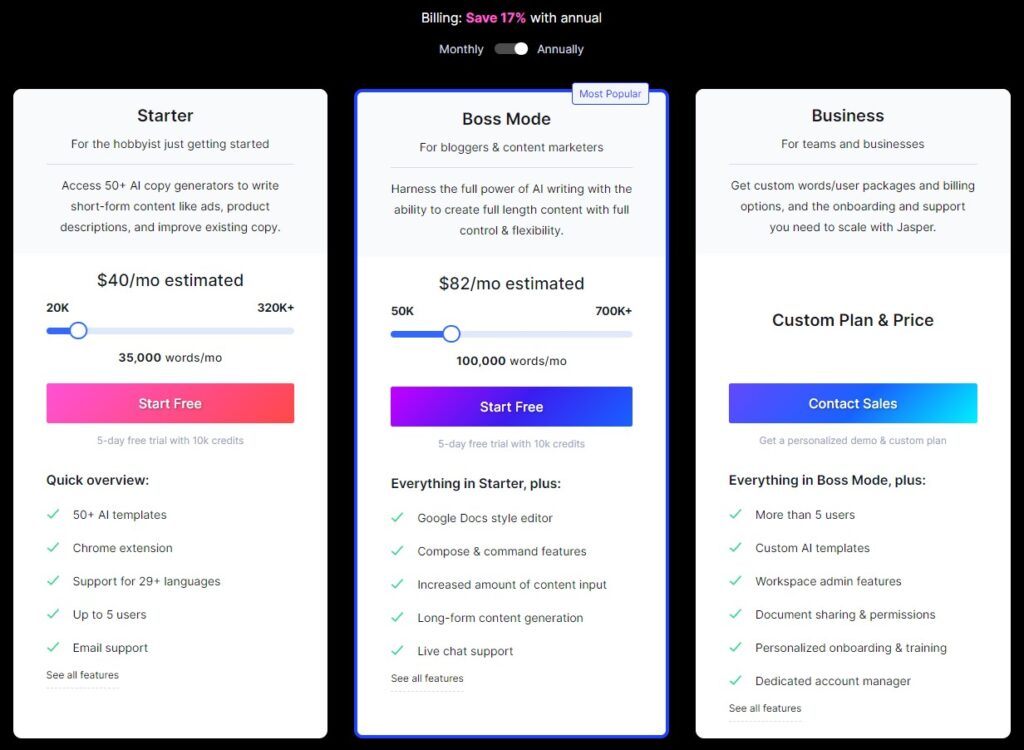 ---
Midjourney is easily one of the best AI art generator tools available today.
Midjourney's pricing starts at $10/month for the Basic Plan, $30/month for the Standard Plan & $60 per month for the Midjourney Pro Plan.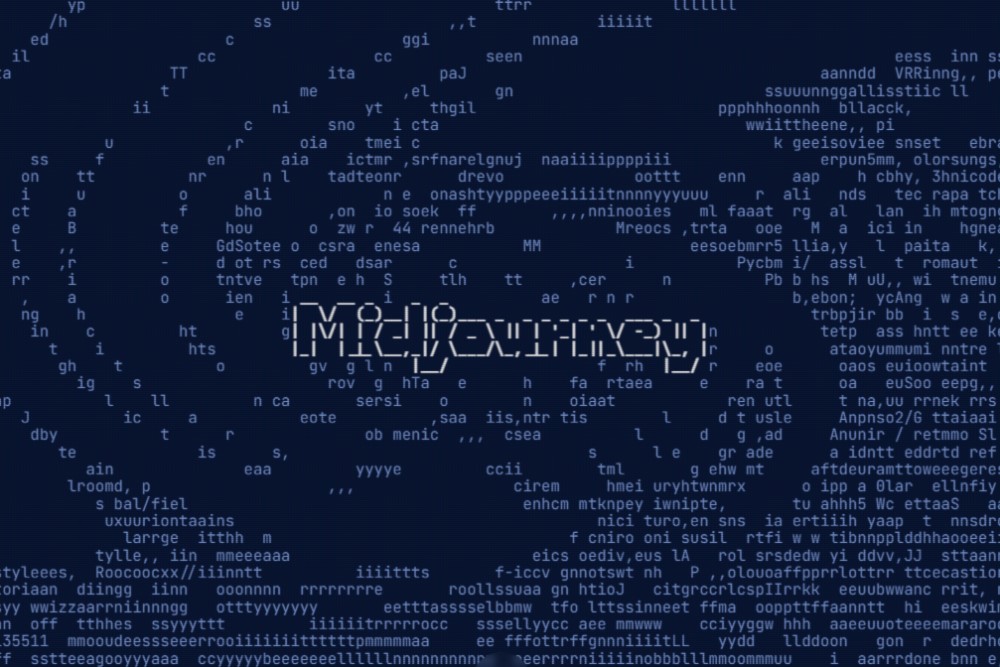 DeepAI – DeepAI.org offers an affordable AI text-to-image generation solution for a mere $4.99/month. By investing a modest $5 per month, you gain access to 500 extra AI-generated images, empowered by an impressive machine learning model from OpenAI. This service accepts a text input and consequently crafts an exclusive image or abstract masterpiece based on the provided text. DeepAI has developed this exceptionally superior text-to-image AI software, delivering remarkable results.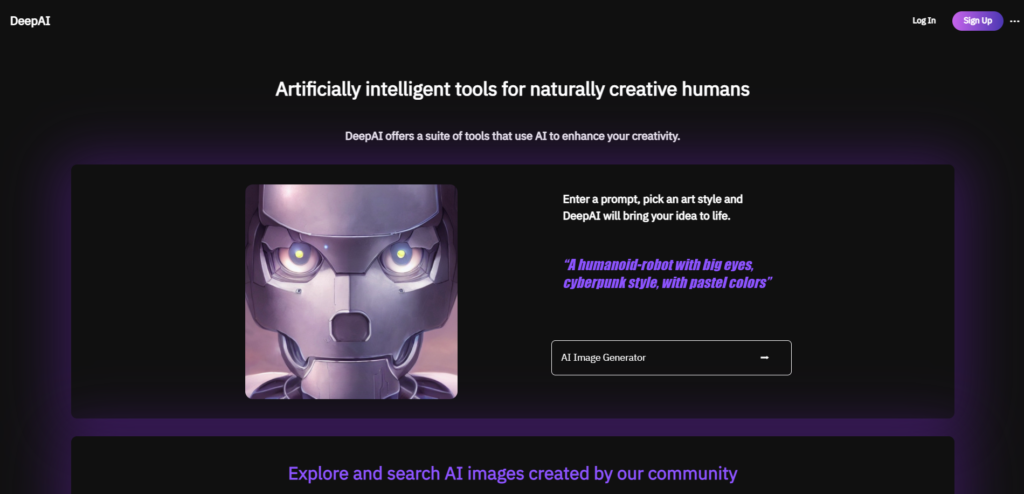 DeepAI also has a text generation API backed by a large-scale unsupervised language model that can generate paragraphs of original text. DeepAI.org describes their AI Text Generator tool as follows: "This transformer-based language model, based on the GPT-2 model by OpenAI, intakes a sentence or partial sentence and predicts subsequent text from that input."
DeepAI Pricing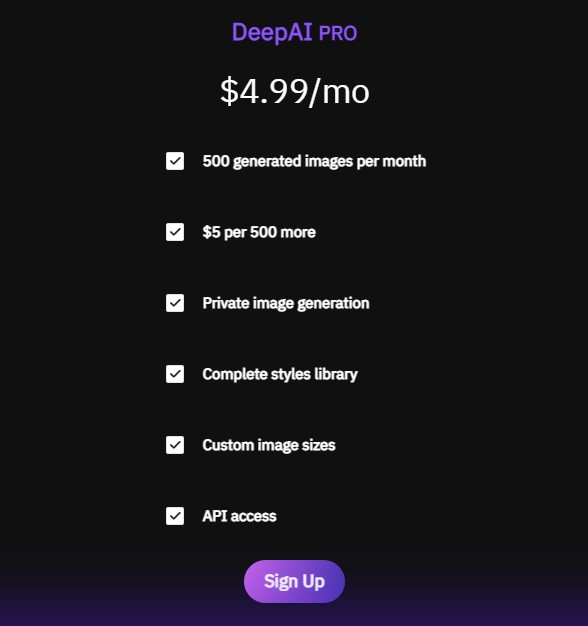 ---
Get creative with your words and Canva will transform them into incredible pictures telling a story. You can turn text into an image using Canva's free AI image generator app . Add visual appeal to your latest designs.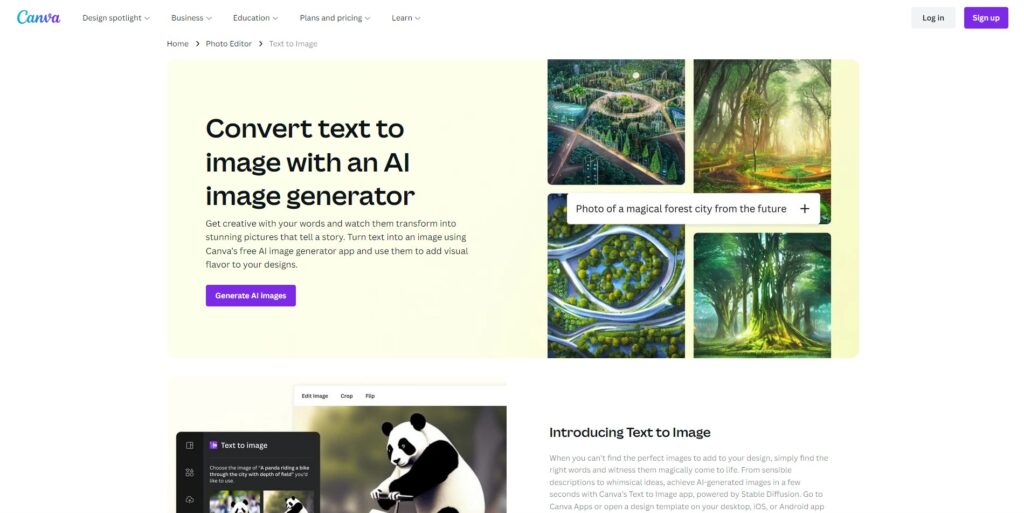 There is also a paid version of Canva AI Picture Generator with additional features and higher limits called Canva Pro. It allows you to create amazing images quickly with no design skills required.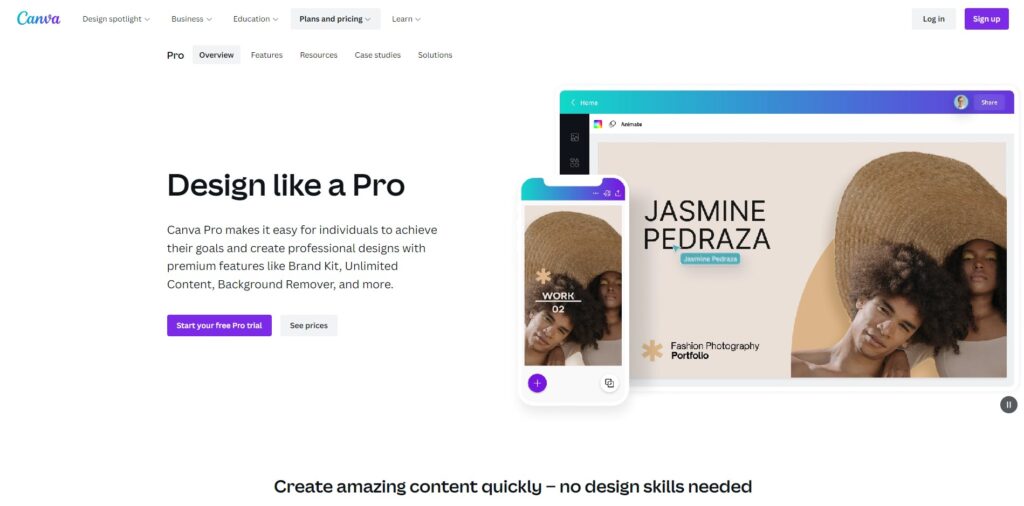 Generate AI images with amazing realism in minutes – no design skills are needed. Canva Pro makes it easy for you to create professional designs with it's premium pro features. The Canva Pro subscription unlocks endless possibilities for businesses and individuals. Canva's pro plan includes a range of premium features including Unlimited Content, Brand Kit, Premium Templates, Magic Resize, Social Posts, 100+ million high resolution stock photos, videos, audio tracks & sound effects, and more.
Canva Pro Pricing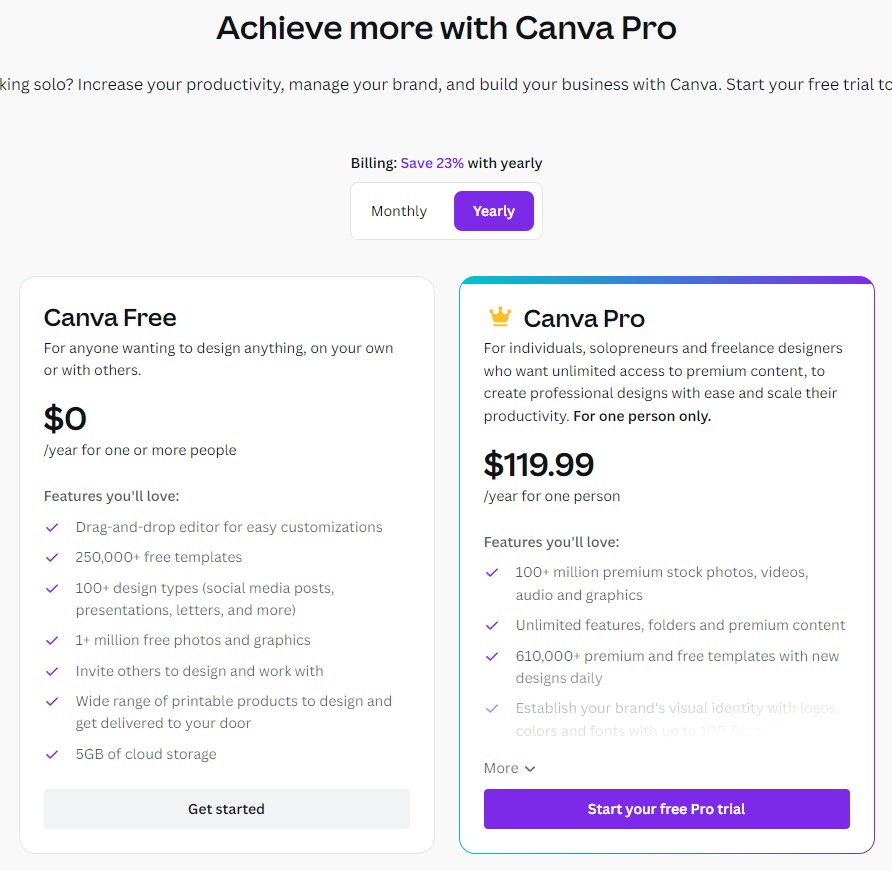 ---
ImageUpscaler – You will find ImageUpscaler to be an impressive image generator that offers both free and paid plans. The ImageUpscaler free plan allows you to generate AI images free (10 per month) but it does show lots of annoying ads.
It lets you up-sacle an image up to 4X. Image. Upscaler also comes with an image deblurer. Downloadable file formats are .jpg, .jpeg an .png.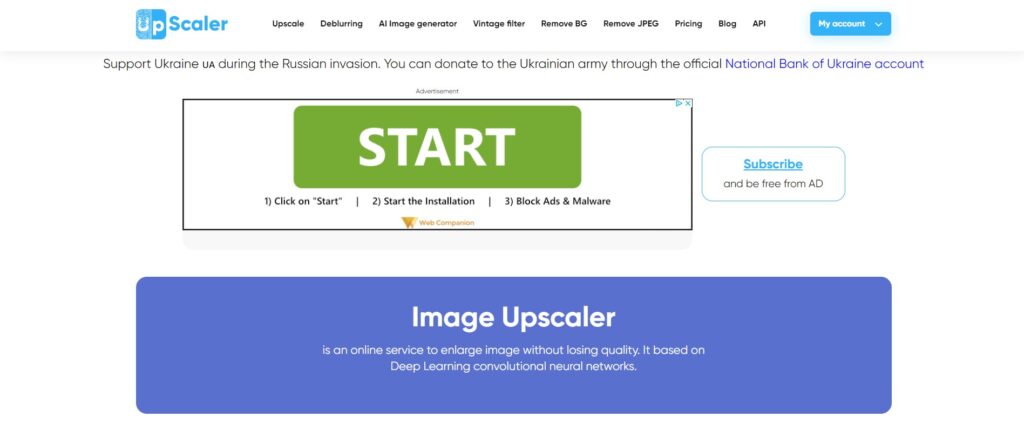 If you're satisfied with their service ImageUpscaler also offers paid plans that are ad free and allow you to create even more images than the Test Mode does. A subscription plan costs $9 per month and lets you create up to 50 AI generated images monthly. They also have an advanced plan which lets you generate 500 AI generated art images per month.
ImageUpscaler Pricing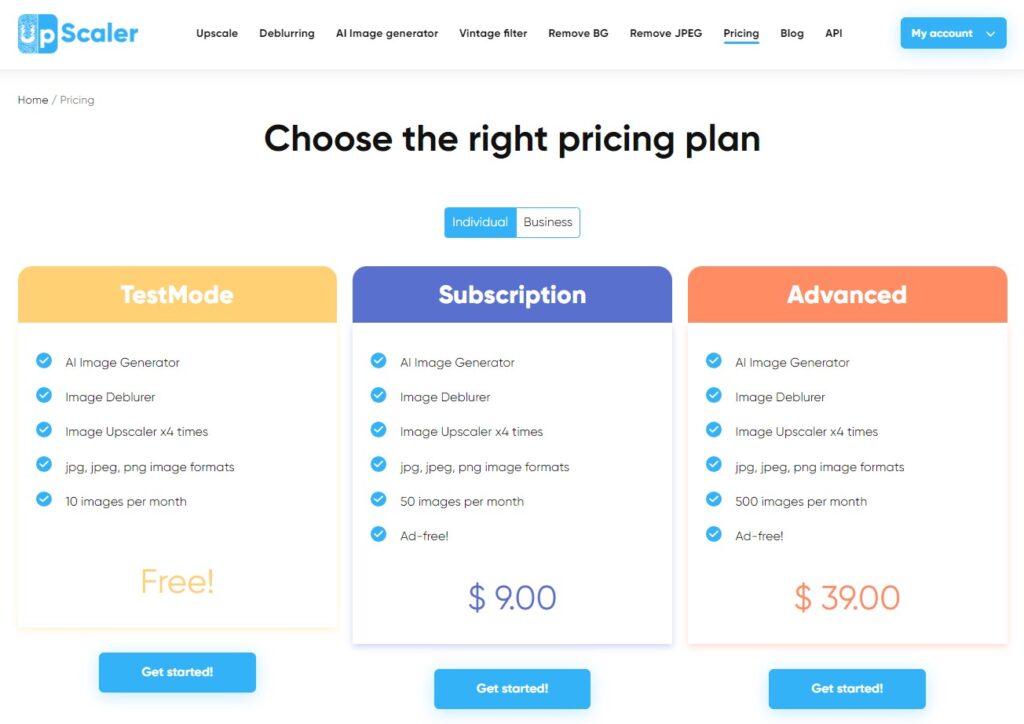 ---
Best Free AI Image Generator Tools
There are some surprisingly good free AI image generators you can use that don't require payment and are totally free to use. I have reviewed some of the best free artificial intelligence powered image creators for you in the list below.
Fotor Free AI Image Generator – Fotor's AI photo editor lets you edit photos in a few short clicks. It provides free online photo editing tools so you can crop and resize images, add text to images, make photo collages and quickly create graphic designs.
Fotor is one of the Best Text to Image AI Tools. Its also an Image to Image AI Photo Generator.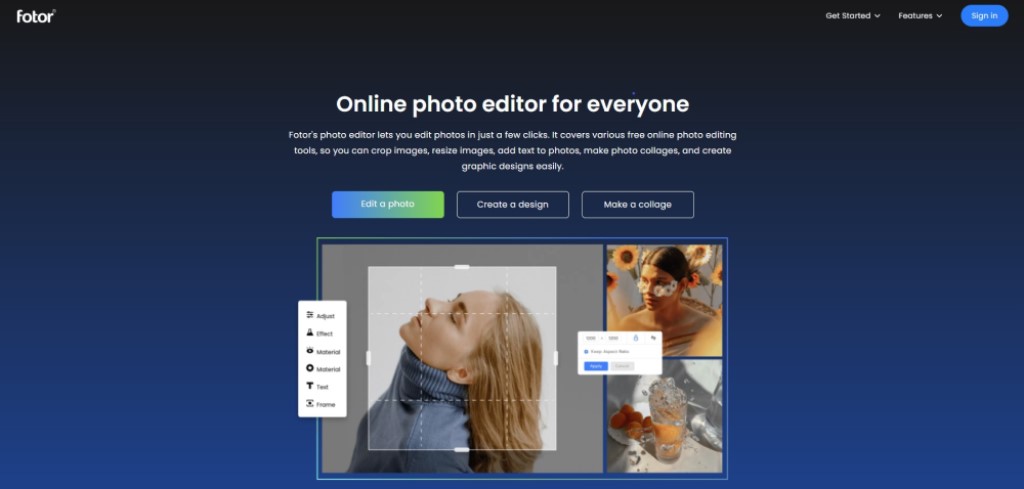 ---
NightCafe Creator – Create AI Generated Art. NightCafe Creator is an Art Generator app powered by artificial intelligence with multiple methods of AI art generation. It uses neural style transfer that allows you to turn your photo into a masterpiece. NightCafe uses text-to-image AI that allows you to create artwork from a text prompt.
You are able to use NightCafe Creator to generate 5 free pieces of artwork daily. You can earn site credits by participating in the NightCafe AI artist community. You only pay if you want your creations printed or for extended use of the creator.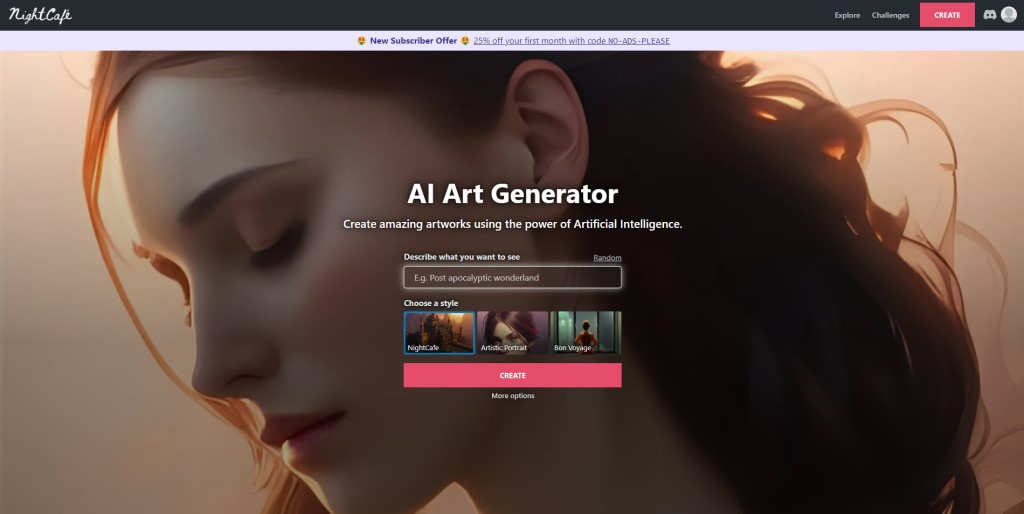 ---
Craiyon – Free Online AI Image Generator. Craiyon.com offers a users a completely free-to-use AI Picture Generator based on a model called "DALL-E mini", more specifically, the larger version also called "DALL-E mega" and is trained using Google TRC.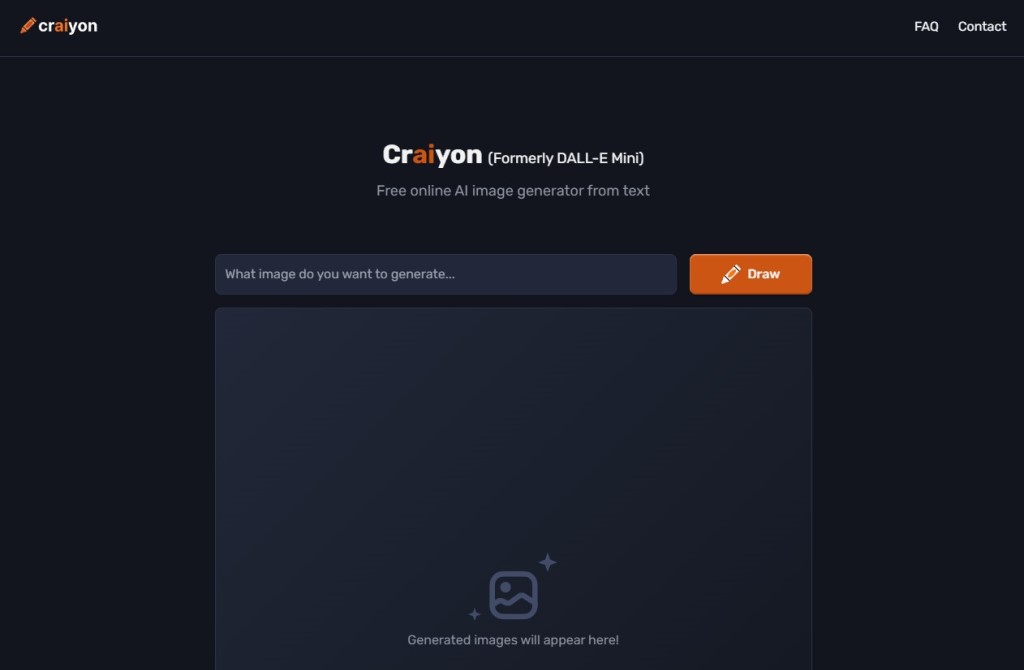 ---
Melobytes – AI in the service of art. Melobytes presents a complimentary text-to-image AI creator, boasting a range of potent features for a cost-free tool. Select from seven distinct font styles and customize the dimensions of the resulting image by specifying its height and width. The platform even enables you to personalize the background and foreground hues of the text within the AI-generated image.
Furthermore, Melobytes allows you to adjust the vertical and text alignment of the AI-created image to your preference. You can also upload a unique background image of your choosing. The best part is that this AI image generator tool is entirely free to use, although it is heavily ad-supported.
Melobytes.com offers a diverse array of AI-driven models for producing various artistic outputs, such as cartoonizers, algorithmic music, lyrics, songs, and even an automated DJ. These capabilities make Melobytes a versatile and powerful AI tool for creating art in numerous forms.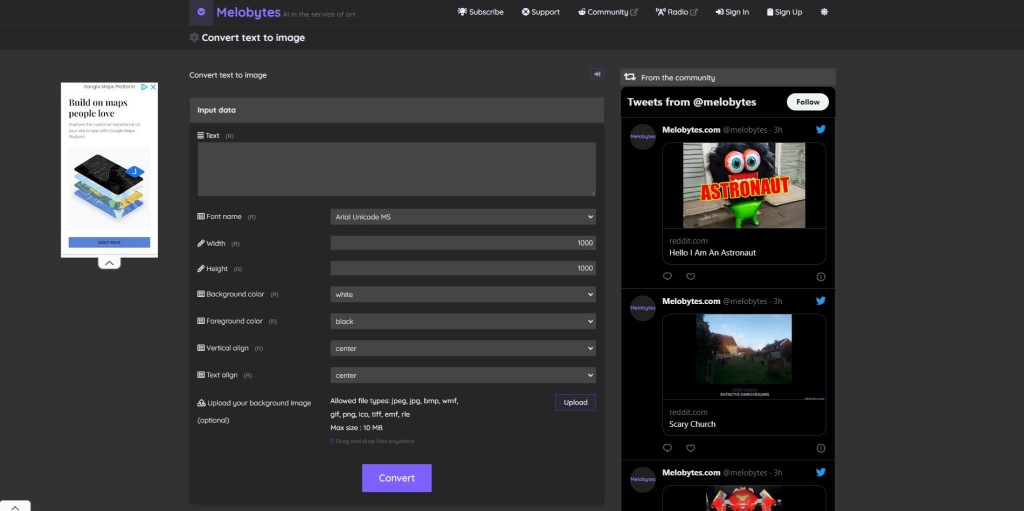 ---
Best Paid AI Image Generators
If you are looking for the best of breed when it comes to artificial intelligence image generator tools then choosing a paid tool is the way to go. The prices are reasonable and won't break the bank so that's the good news.
Hotpot.ai – A cloud-based AI image creation tool that allows people to create NFTs, digital art and text-to-image pictures. The solution provides the tools you need to get started creating your own unique digital art, original images and NFTs.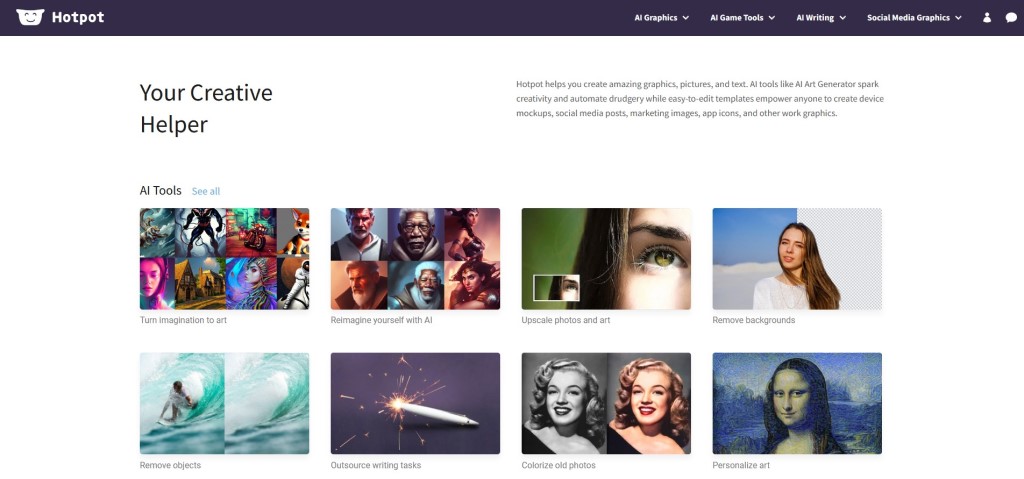 The Hotpot AI Image Generator creates a number of different types of images including an Art Generator, Headshot Generator, Image Upscaler, Object Remover, Background Remover, Art Personalizer, Picture Colorizer, Picture Restorer, Face Enhancer and Color Generator.
Hotpot.ai also creates Instagram Posts, App Store Panorama Screenshots, LinkedIn Banners and Covers, Facebook Posts, App Store Icons, Launch Screens, Game Assets, Logo Designs, Twitter Headers and YouTube Thumbnails.
It even has AI writing tools for Copywriting, Song Writing, Book Writing, Professional Writing and Product Writing.
HotPot.ai Pricing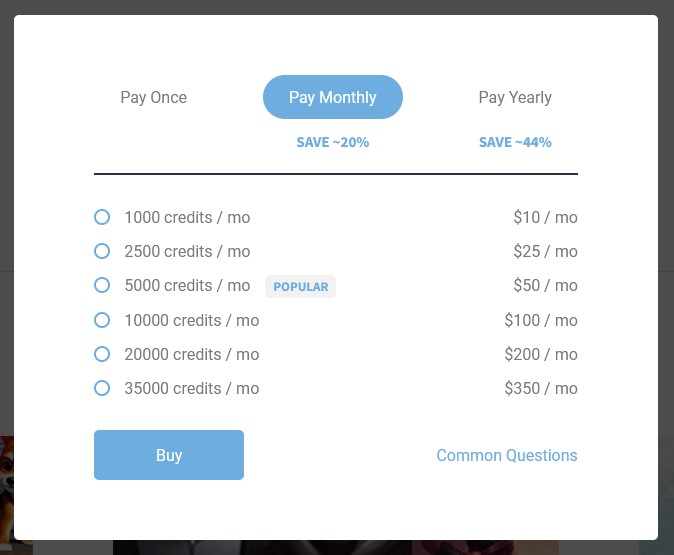 ---
20 More AI Image Generators With In-Depth AIgeeked Reviews in the Works:
AISEO
DALL-E
StarryAI
Deep Dream Generator
CF Spark
TinyWow
Picsart (Free)
Artbreeder
Photosonic
Aiby AI Art Generator
USP.AI
Wonder
PhotoRoom
Simplified
FreewayML
Neural.love (Free)
VanceAI
Wepik
Neuroflash
Stability.ai
---
How AI Image Generators Work
Have you ever wondered how AI image generators work? There are actually several models that use artificial intelligence to generate images based on the input provided to the AI software by the tool's user.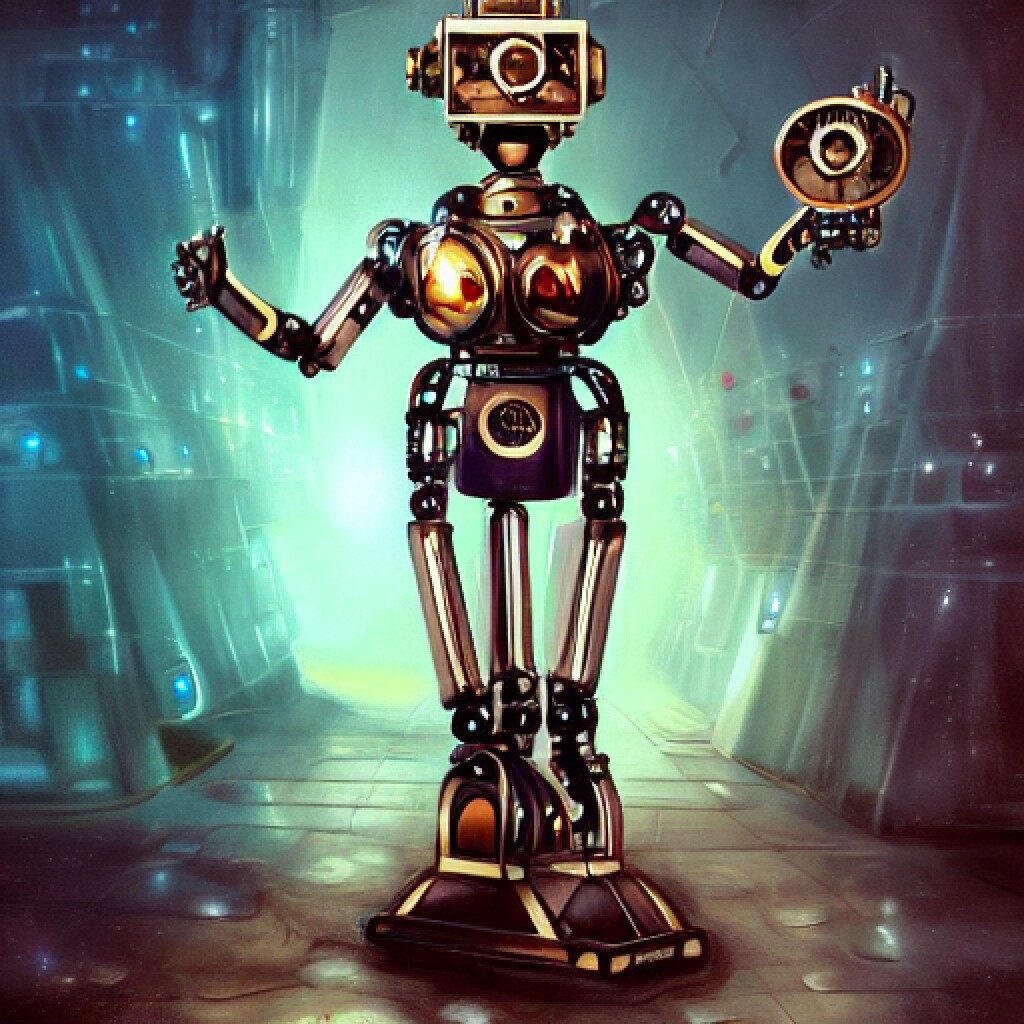 Imagen: Text-to-Image Diffusion Models
The Imagen: Text-to-Image Diffusion model that is the leading model was created by Google AI. As Google puts it on their AI website: "We present Imagen, a text-to-image diffusion model with an unprecedented degree of photorealism and a deep level of language understanding."
The Google text-to-image AI generation model has been widely adopted by many of the industry's leading AI image generating tools available on the internet in 2023.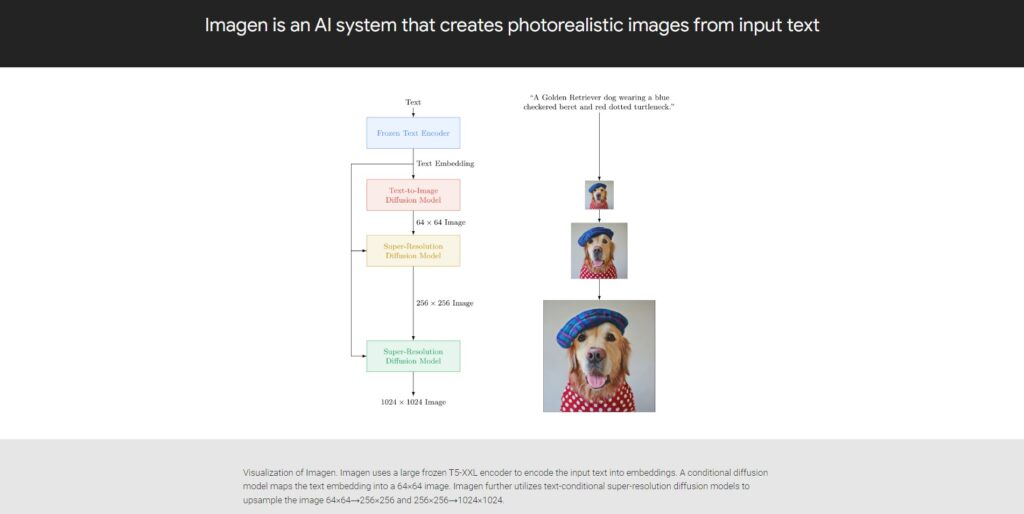 ---
Energy-Based Models
Energy-Based Models (EBM) is a promising area of deep learning that hasn't reached mass adoption yet. Conceptually, EBMs are a form of generative modeling. The models learn key characteristics of a target dataset and attempt to generate similar datasets.
Energy-Based Models results are attractive because of the simplicity they have with image generation through the power of artificial intelligence.
---
DALL-E: AI Generated Images from Text
OpenAI developed and trained a neural network called DALL·E that is able to create images from text captions for a wide range of natural language expressive comments.
As OpenAI describes it on their official website: "DALL·E is a 12-billion parameter version of GPT-3 trained to generate images from text descriptions, using a dataset of text–image pairs."
---
DALL-E 2
DALL·E 2 is the latest generation AI image generation software from OpenAI that creates realistic images and artworks from a text input phrased in natural language. Watch the DALL·E 2 Explained video below to learn more about how it works.
Conclusion to AI Image Generator Software
The team at AIgeeked was blown away with the levels of realism and image detail that come from images created by image generators powered by artificial intelligence.
For related reading check out this must read comparison review of Jasper vs WordHero to find out their differences and similarities between them as well.
This page will be updated frequently as we review more AI art generators for you to consider using so please bookmark it now and come back again soon to see what's new and up-to-date.
You can also read our page on the best AI video generators to get started creating animated videos with generative AI.
Related Content You Might Like
Follow and Like AIgeeked on Social: