In this WordHero Review I provide an explanation & detailed analysis of the AI content creator based on my experience testing WordHero out compared to its main text generator competitors.
AIgeeked.com is reader supported and we may earn an affiliate commission from the AI products listed on this website.
WordHero Review & Analysis
WordHero AI is an artificial intelligence-powered text generation platform that produces high quality and accurate content for your business.
It uses GPT-3, the latest language processing technology from OpenAI, to generate compelling content in seconds.
WordHero offers a range of languages to write in that make it stand out from other AI content generators like Anyword, Copy AI & Rytr.
In this review of WordHero, I will discuss its various features and the benefits of using WordHero compared to its main competitors.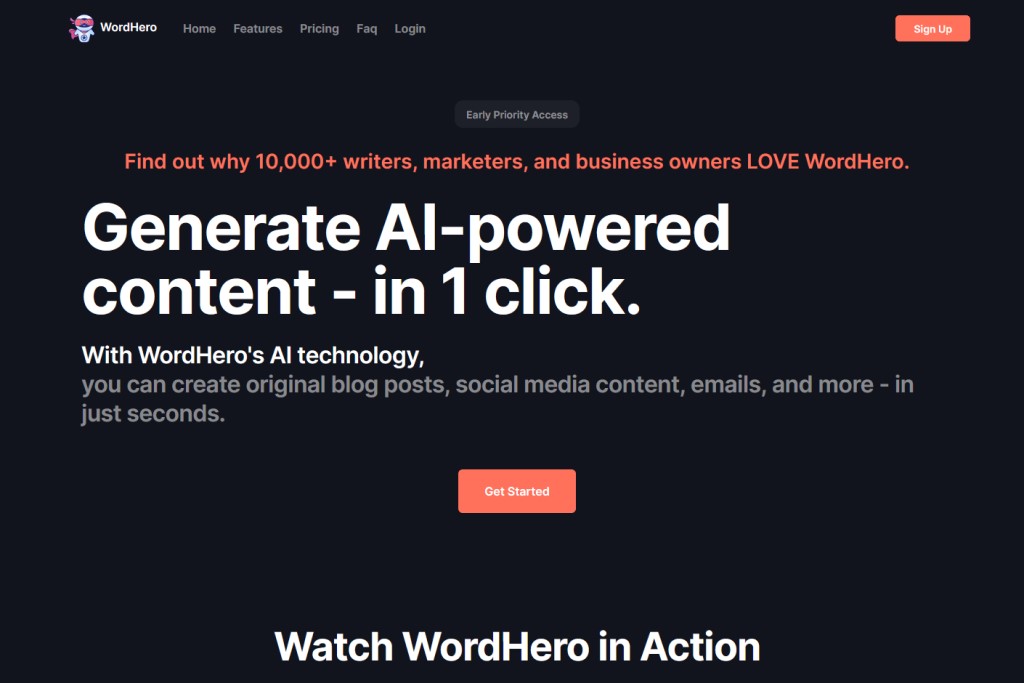 WordHero's Features
WordHero has numerous features such as auto-complete, suggestion autocomplete, grammar checker, keyword suggestion tool and many more to ensure accuracy and quality output.
The AI's writing style is based on real-time feedback from users which helps it adjust itself according to the user's needs and preferences.
WordHero offers a fictional AI story generator that's great for wrting fiction short stories.
The intuitive interface is user friendly and allows you to customize your WordHero settings according to your requirements.
The Benefits of Using WordHero
WordHero offers several advantages over its competitors such as faster text generation times and more accurate results with short form content and fictional story narratives.
Unlike other AI content generators that create generic content, WordHero produces personalized content specific to your needs.
Furthermore, if you need something more specific or complex than what the AI can provide then you can always hire a professional writer to get even more accurate results for your copywriting needs.
WordHero AI Functionality & Design
The functionality of WordHero AI is efficient and intuitive, allowing you to create high quality content quickly and with ease.
It has a clean design with clearly labeled buttons so you can easily navigate around the platform without any confusion or frustration.
You can also modify settings according to your own preferences including adding keywords or modifying contextual prompts, making sure that each time you use the tool it produces precise results tailored specifically for your project needs.
Accurate & High Quality AI Text Generation
One of the best things about Wordhero is its ability to generate accurately written text within seconds with minimal effort.
This makes sure that whatever project you're working on gets done quickly without compromising on quality.
All texts generated are automatically proofread so there are no spelling mistakes or grammatical errors present in the final output which again shows just how dedicated they are towards providing quality content at all times.
WordHero Performance & Speed Insights
When it comes to speed performance, WordHero has proven itself time after time by delivering impressive results in terms of both speed as well as accuracy thanks to their powerful AI engine.
It usually takes only a few seconds between typing in query and getting back relevant outputs meaning projects can be completed much faster than usual while still maintaining a high level precision.
Moreover due to its user friendly interface usage remains simple yet effective.
The Pros And Cons Of WordHero AI:
Next, I will explore the pros and cons of using WordHero for AI text generation compared to other AI text generators.
Pros Of WordHero AI:
One of the big advantages I noticed using WordHero is its highly accurate when generating short form content.
By employing advanced GPT-3 language processing technology, WordHero is able to produce accurate content.
WordHero is also easy to use. Thanks to its intuitive interface you aren't faced with any difficulties while operating the AI text generator platform.
One thing I really like about WordHero is it offers affordable prices compared to other AI content generators, while generating high quality content at the same time. This makes it easy for everyone to get started with their service.
WordHero also offers the ability to write content in 108 different languages, which is one of the largest language selections of AI content generators that I've seen so far.
Cons Of Word Hero AI:
Despite the benefits of WordHero's AI content generator, there are some limitations as well.
For starters, WordHero has limited customization options.
The current level of customization is not as good as what other companies are offering like Jasper AI, meaning you don't have much control over what content is generated from your prompt / inputted text.
Sometimes this results in undesired outputs which can be a disappointment if you're looking for specific results or a specific style of writing and tone of voice.
It doesn't necessarily mean that the output is poor – it just isn't quite up to par with other AI generation platforms in terms of versatility and flexibility.
Word Hero Pricing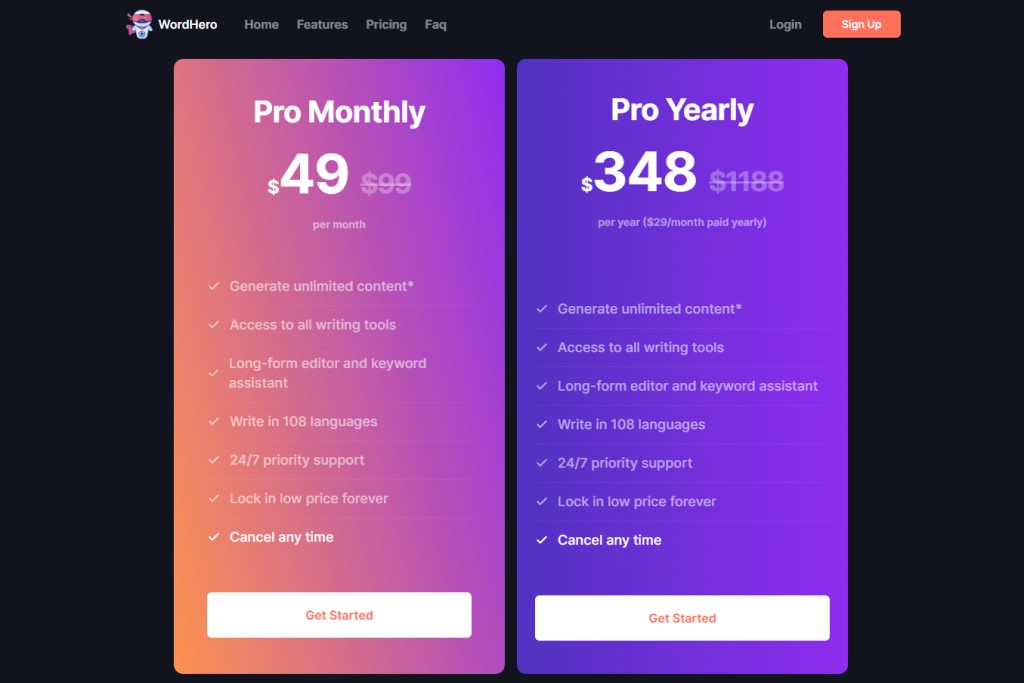 Word Hero provides reasonable pricing plans so everyone who wants access to high quality text content doesn't have any financial hindrance stopping you from utilizing this amazing AI content generation platform.
There are two main options available which include a "Pro" plan billed monthly ($49 per month) or an unlimited words annual subscription "Pro" plan that costs $348 per year (or $29/month paid annually); giving you complete freedom when deciding what fits your budget best.
WordHero pricing can currently be locked in forever meaning prices won't go up if you renew your subscription plan next year and/or in future years.
Moreover unlike many companies offering similar AI text generator services there aren't any hidden fees involved making already their affordable prices an even better deal.
WordHero AI Review Summary:
WordHero does an excellent job helping businesses generate large amounts of high quality content quickly by employing OpenAI's GPT-3 natural language processing (NLP) model along with intuitive controls, plus affordable pricing plans, making it one of the better AI content creators available today.
WordHero is a great choice for anyone looking to create content quickly without sacrificing the quality of work.
Its combination of powerful AI software, intuitive controls, and affordable pricing options makes it an ideal solution for businesses looking to streamline their content production process.
All in all, WordHero offers a comprehensive AI content generator platform that allows its users to produce high quality content in 108 languages efficiently.
WordHero FAQ
Getting Started With WordHero AI Writing Tool
Follow and Like AIgeeked on Social: